The Laurels of Kent - A Skilled Nursing & Rehabilitation Center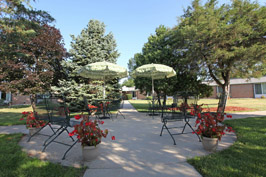 The Laurels of Kent is a 121-bed skilled nursing and rehabilitation center located in a rural cul de sac off state route M-21, halfway between Grand Rapids and Ionia. Our recently updated building offers easy access to and from Grand Rapids hospitals.
We host both short-term and long-term guests, providing medical, social and emotional care that optimizes each guest's independence and enjoyment of life. Both our director of nursing and medical director are long-term associates, which optimizes the continuity of care for our guests.
Guests enjoy private and semi-private room options as well as nutritious home-style meals served in our attractive dining room. Short-term programs at The Laurels of Kent include rehabilitation care, respite and hospice care. The latter reflects a respectful concern for guests' personal dignity, as well as for the emotional experiences of their families.
Our short-term rehab facility at The Laurels of Kent offers cardiac, orthopedic, wound-healing and neurological services, including Parkinson's disease rehabilitation.
Long-term care at The Laurels of Kent focuses on each guest's special needs and well-being. We promote community programs, games, educational activities, holiday celebrations and other activities that combat emotional isolation and promote vigor and interest in living.
What brings it all together is our conviction that each guest deserves our compassion, respect and friendship. We call it The Laurel Way of Caring, and we do it every day.