The Laurels of Kent Staff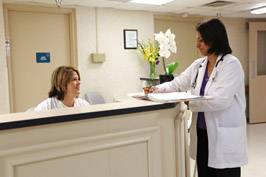 What differentiates one skilled nursing & rehabilitation center from another? The answer is... the people who work and reside there! The people set the tone, the atmosphere, and the expectations. At The Laurels of Kent, we take great pride in ensuring that everyone feels like part of our family, and that they are treated as special "guests" in our home.
The Laurels of Kent employs a team of highly qualified medical professionals, including a Medical Director, Registered Nurses, Restorative Care Nurses, a Wound Care Nurse, state tested Certified Nursing Assistants, Physical Therapists, Occupational Therapists, and a Speech Therapist. Our on-site Rehab, Dietary, Social Work, and Activities departments provide personalized and compassionate care to each guest. From the moment you walk through the front doors, the warmth and caring of the staff will begin to gain your trust and confidence, as they strive to exceed your expectations.
Unlike other facilities that use "contracted" staff members, each member of the team at The Laurels of Kent is directly employed, not "contracted". Each Team Member takes great pride in portraying "The Laurel Way of Caring", as they strive for excellence in providing only the highest standard of care and services to every guest, and to every family member and visitor. Come on in! Visit a while! Let us show you our very best... let us show you The Laurel Way.
Nancy Stephens, Administrator
Nancy has been with Laurel Health Care Company since 2002, first as the Rehabilitation Director and now as the Administrator. She has served in the healthcare field since 1990 and in long-term care since 1994. Nancy enjoys working with the elderly population and listening to the life lessons that we can all learn from them.
Danielle Trygstad, RN, Director of Nursing
Danielle Trygstad BSN, RN has been part of the Laurel's team since 2009, when She started as a CENA. She has worked her way up from LPN, to RN, to Unit Manager, to Assistant Director of Nursing, to her current position as the Director of Nursing. She graduated with her Bachelors in Nursing from Ferris State University. She is a military wife, and mother of two. "We are what we repeatedly do. Excellence, therefore, is not an act but a habit"-Aristotle.
Carrie Danks, Director of Marketing
Carrie has been an employee of Laurels of Kent since 1999. She started her career in healthcare as a certified nursing assistant and has worked her way up to accepting her role as Director of Marketing in 2016. She is an active member of local Chamber of Commerce and Lowell Woman's club. When not at work, she enjoys spending time with her husband, children and grandchildren.
Ruby Schaefer MS, OTR/L, Rehabilitation Services Director
Ruby graduated from Northern Illinois University with a B.A. in Corporate Communication in 1990. While pursuing her degree, she was also commissioned as a 2nd Lieutenant in the U.S. Army. She moved with her family to the Grand Rapids area in 1996 and was accepted to the Occupational Therapy program at Grand Valley State University. She graduated with a Master's of Science in 1999. Ruby brought 20 years of clinical and management experience to her position at The Laurels of Kent when she joined the team in June 2013.